Tel:086-577-65136886
+086-13362720088

Email: yuxiruan@126.com
YTZ Series Double-color Middle-High Speed Non-Woven Cloth Printing Machine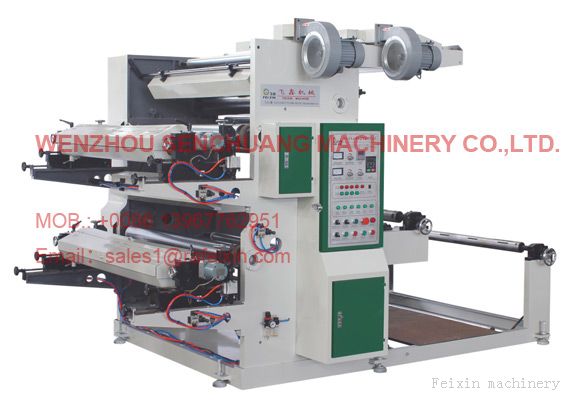 1. Application:
Introduce sensitization resin as flexible printing plate, suitable for printing such packing materials as non-woven materials, it is a kind of ideal printing equipment for supermrket hangag, vest bags and clothes bags,etc. When the printing, through anilox roller, the ink envenly coated in the raised parrterns of the printing plate, the raised patterns some ink transfer to the sbustrates.

II. Main Technical Variadles:
Size
YTZ2600
YTZ2800
YTZ21000
YTZ21200
YTZ21400
YTZ21600
YTZ21800
YT22000
Printing width
580mm
780mm
980mm
1180mm
1380mm
1580mm
1780mm
1980mm
Max.web width
600mm
800mm
1000mm
1200mm
1400mm
1600mm
1800mm
2000mm
Printed matter length

200mm——1250mm

Max Mechanical Speed

100m/min

Max printing Speed

10m/min——80m/min

Max Diameter of Roll Material

¢800mm/ ¢1000mm

(Netted stick)

60——200

(interal Diameter of Roll Core)

¢76mm

(Accuracy of Registration)

±0.2m

(Plate Thickness)

2.38mm / 4mm

(Main Motor)
1.5KW

2.2KW

3KW

4KW

5.5KW

Heating Power
18KW
21KW
24KW
27KW
30KW
33KW
36KW
40KW
Fans

0.55kw

0.75kw

1.1kw

1.5kw

2.2kw
Total Power
22kw
25.7kw
29.5kw
33.3kw
38.7kw
43.3kw
47.8kw
54.6kw
Weight of Machine
4.4T
4.9T
5.2T
5.5T
5.7T
5.9T
6.2T
6.5T
Overall Dimensions(L*W*H)
5.0× 1.8× 2.6m
5.0× 2.0× 2.6m
5.0× 2.2× 2.6m
5.0× 2.4× 2.6m
5.0× 2.6× 2.6m
5.0× 2.8× 2.6m
5.0× 3.0× 2.6m
5.0× 3.2× 2.6m

III. Performance and Features
1. Radiotherapy alone single receiving, the hydraulic raise-drop version
2. The machine-top shelf has equipped with air box which cold air qualitative,, air box has a wall plate to ensue uniformity of the wind.
3. Dual-channel into the dir drying, infrared heating tube, infrared heating tube group control, high pwer drying system, air and heat evenly, the drying rate significantly improved.
4. It equipped with domestic inverter, CHINT,DELIXI or the people electronic automatic counter,automatic stop when the material is cut off.
5. Automatically transported the ink when the machine stop, but the ink motor automatically stops when printing.
6. Other applicancs re used Chint , DELIXI, and the people appliance.
7. Hard aluminum oxidation, and static and dynamic balance of processing to do.
8. Embossing stick, and pull the stick materials are super hard chromium plating layer of protection, balanced, better performance and longer life
9. Gear drive with high precision helical gear drive.
10. Manual control the version.
11. The obverse and reserse can be printed continuously and synchronously
12. automatic tension control
13.Servo computer Guilding system
14. Main motor made in Taiwan.
<BACK>